Musafia Cremona Italy
and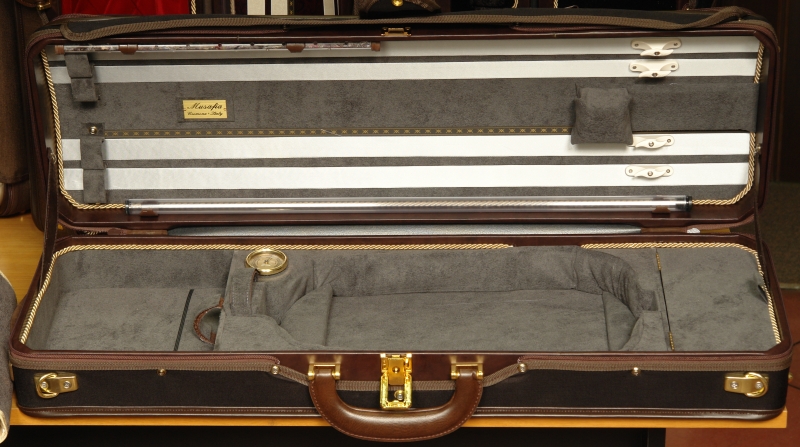 Momentum is STYLE and VALUE.
MOMENTUM
As the name implies, with the MOMENTUM Mr. Musafia and his team have created a completely super-compact, ultra-light design for those on the go.
Placing the violin centrally with a large open-space area around the scroll (complete with shoulder rest holder) offers close to triple the amount of accessory space of the previous Ultraleggero Royale model (including a closed compartment of almost 1,000 cm3), while rendering the case even lighter (2.6 kg/ 5.7 lbs.) than before. All models include an elastic in the scroll area to hold string packets, business cards, etc.
Instrument safety is enhanced by two structural load-bearing partitions mated to the trademark Musafia monolithic impact absorbing system, while the styling is fresh and understated. Available in violin and viola formats.
You are invited to compare the Cremona-built quality, features, and value of MOMENTUM to any other case in it's price class - and you'll see the Musafia difference!
MOMENTUM Z
The Momentum with Zing!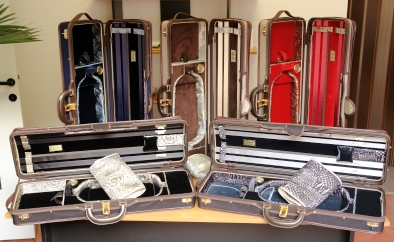 Stylish, colorful, high-fashion silks and satins make the Momentum Z stand out in a crowd!
The same design and quality as the normal Momentum, each Momentum Z is personally styled and created by Mr. Musafia, using colorful high-fashion velvets, silks and satins for a younger, even more dynamic look! Quantities are limited to availability of designer material. Please see here for currently available colors.
Please note: maximum bow length accommodated in the ultra-compact Momentum U2112R and U2112Z violin cases is 74.5 cm, and 75 cm for the U2022R viola case.

Δ Δ Δ
DESIGN
Centrally-placed violin protects violin from impact in all directions. Now with extra-reinforced corners. Large open space area for shoulder rest (with Velcro - replaceable) and string packets, closed accessory box for mutes, tuning fork, etc.. The viola case is slightly more conventional (a necessity due to the greater length of the instrument), but still offers superlative safety, light weight, and considerable room for accessories. Maximum bow length accommodated in the ultra-compact violin version is 74.5 cm. The maximum width for violas is 25.8cm.
FORMATS AND VERSIONS
| | |
| --- | --- |
| | The U2112R Momentum is not just the entry-level Musafia violin case, but a high-quality artisan-made case made just for you at the price of many industrially-made cases. Now with extra-reinforced corners. |
| | The U2112Z Momentum Z adds a stylish touch of color to the regular Momentum violin case, for those who desire to be noticed! Different material and color combinations available. Now with extra-reinforced corners. |
| | The U2122R is the Momentum case for viola (made to measure). Now with extra-reinforced corners (not pictured). |
INTERIOR MATERIALS
Lined in soft suede-like Royale (Momentum), high fashion silks and satins (Momentum Z).
Δ Δ Δ
MORE INFORMATION ABOUT THIS MODEL (click on links)
FEATURES and OPTIONS - COLORS - WEIGHTS and MEASUREMENTS
In his continuous quest for perfection, Mr. Musafia reserves the right to change, modify, and improve any features and characteristics of these cases without prior notice.
"Musafia" and "Musafia Cremona Italy" are registered trademarks protected by law.