Musafia Cremona Italy
Violinist Gil Sharon, soloist and director of the Amati Ensemble

as well as violist of the celebrated Fine Arts Quartet

and Dimitri Musafia, master violin and viola case maker in Cremona Italy

for the past 37 years,

teamed up to design and build

a limited-edition violin case

with innovation as its primary leitmotif.
Innovation through research, study and dedication.
Now with NEW innovative and unique hybrid Kevlar/ wood laminate shell - a Musafia exclusive feature. Click on the logo below for more information.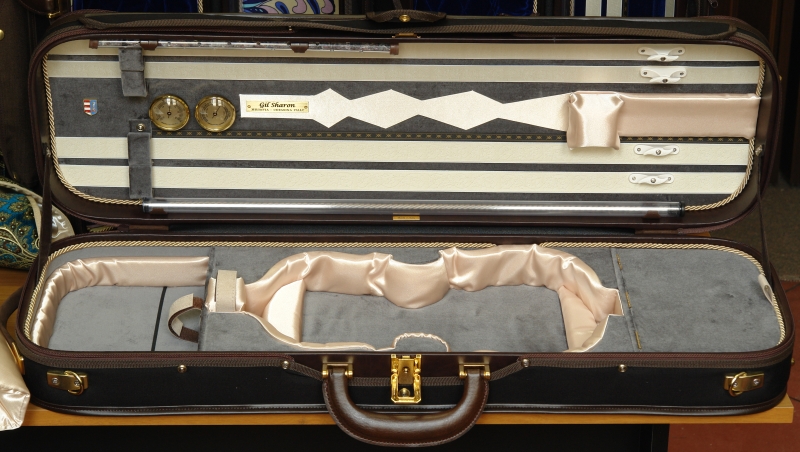 (click on images to enlarge)
FEATURES and OPTIONS - COLORS - WEIGHTS and MEASUREMENTS
Presented September 2013 at the prestigious Cremona Museum of the Violin, the GIL SHARON BY MUSAFIA case, with its compact size and optimized instrument protection including Tropicalization (thermal insulation), soft rubberized bow holders, satin instrument cradling and anti-intrusion panels, raises the bar for offering peace of mind to the busy musician.
* * *
Ample closed and open areas provide an exceptional amount of room for accessories, 100% cotton velvet lining helps provide a stable microclimate while the instrument itself is French-fit cradled in slick, highest-quality satin – a Musafia first – especially recommended for instruments with soft varnish. Includes an elastic in the scroll area to hold string packets, business cards, etc.
A world's first innovation is the adoption of

rubbery SoftTouch

™

bow holders

, which securely click-lock like many others but, unlike them, thanks to Mr. Musafia's patented detent-less design, they are

made out of flexible, bow-friendly soft plastic

.

This helps protect the bow from wear and in case of accident. Now standard on all Musafia cases.
Contrasting colors and innovative design, including a unique artistic hand-cut Modernist profile created in the lid personally by Mr. Musafia, of which no two are alike - abstractly recalling the unpredictable, non-linear formation of folds and wrinkles in the padding surrounding the violin - make this case stand out in a crowd… but only while it's open. On the outside, like all Musafia cases the GIL SHARON BY MUSAFIA is purposefully nondescript to avoid attracting unwanted attention.
The GIL SHARON BY MUSAFIA isn't just another artists' testimonial product. Mr. Sharon, who purchased example no. 1, in fact receives no compensation for his association with this project. The production of the GIL SHARON BY MUSAFIA case is limited to only 200 certified examples for violin only, fully hand-made by Dimitri Musafia and his assistants in Cremona, Italy, and yet the price is comparable to that of many industrially-made cases.

Δ Δ Δ
DESIGN
Inspired innovative styling and instrument placement with strategic foam impact absorbing structures to protect it from impact in all directions. Closed accessory box on long-lasting brass hinging for mutes, tuning fork, etc.. Shoulder rest fits in open area beneath the scroll (with Velcro - replaceable). Deep padding
INTERIOR MATERIALS
Lined in thick 100% cotton velvet, with heavy-grade satin holding the violin.
Δ Δ Δ
CLICK HERE TO SEE DETAILS (details are subject to change without prior notice)
MORE INFORMATION ABOUT THIS MODEL (click on links)
FEATURES and OPTIONS - COLORS - WEIGHTS and MEASUREMENTS
In his continuous quest for perfection, Mr. Musafia reserves the right to change, modify, and improve any features and characteristics of these cases without prior notice.
"Musafia", "Musafia Cremona Italy", and "SATRAVI" are registered trademarks protected by law.