Musafia Cremona Italy
* New * A E T E R N U M Series 5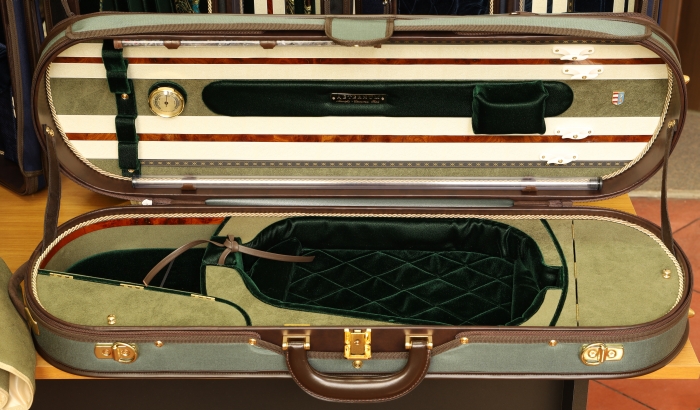 Now with NEW innovative and unique hybrid Kevlar/ wood laminate shell - a Musafia exclusive feature. Click on the logo below for more information.

A timeless design from the 1700s brought into the present with an eye on the future.
FEATURES and OPTIONS - COLORS - SPECIAL VERSIONS - WEIGHTS and MEASUREMENTS
In 1999 Dimitri Musafia designed the original AETERNUM, an innovative re-interpretation of the classic violin case of the ealry 1700s. Starting with the straight-sided, rounded-end design that experts think may have been invented by no less than Antonio Stradivari, the instrument was placed at a slant to make more room available for accessories. The AETERNUM Series 5, new for 2021, is the latest refinement of the AETERNUM concept. While maintaining the basic shape of the previous versions, curved load-bearing partitions add grace, strength, and further increase room for accessories.
The instrument is surrounded by thick padding and high-density foam filler to help protect the violin or viola from impact in all directions, with an additional safety frame to further protect the scroll and neck. Roomy accessory compartments with brass-hinged lids offer space for shoulder rests, mutes, tuning fork, etc. String packed may be secured by an elastic under the instrument scroll. Instrument safety is enhanced by structural load-bearing crosswise partitions, with bolted-through steel L-reinforcements, mated to the trademark Musafia monolithic impact absorbing system and an anti-intrusion bottom panel.
Kevlar®, stronger than steel by weight, is widely used as a structural reinforcement, which actually makes the case lighter: again, an important Musafia first. Minimal linear surfaces provide further strength.
The exceptionally plush interior, with deep quilted padding, is fully lined in exquisite velvet plush and suede-like Royale for a stylish two-tone effect. Specially-milled ivory-color bow ribbons (treated to resist rosin dust) feature a jacquard weave which reproduces the inlay of the 1677 "Sunrise" Stradivari. The lid is further graced by two strips of hand-polished cherrywood burl, finished with six coats of traditional violin makers' gumlack, prepared in the workshop. A small but thoughtful touch is represented by the presence of ribbons to retain photographs in the lid without damage.
The overall effect is of utility and modernity, but with just enough classic detailing and handwork to make it truly special. Fully hand-made in limited numbers by Dimitri Musafia and his assistants in Cremona, the AETERNUM remains a timeless design for an ever-changing world.
The Aureum version of the AETERNUM series 5 reaches an almost incredible level of style, quality and detail with softest Italian leather lining, contrasting stripe bottom padding (similar to that in the Enigma), "Sunrise" pattern satin lining, and as a final touch - 14 discreetly situated Swarovski crystals to hide otherwise visible screw heads (the crystals can be deleted if preferred without).
The AETERNUM Series 4 and AETERNUM Series 4 Aureum are available for the violin and for the viola.

Δ Δ Δ
DESIGN
A mix of classic and modern. Instrument placement with strategic foam impact absorbing structures and a safety frame in the scroll-neck area to protect it from impact in all directions. Closed accessory boxes on long-lasting brass piano hinging for mutes, tuning fork, etc.. Deep bottom padding.
FORMATS AND VERSIONS
| | |
| --- | --- |
| | With the 3611E Aeternum Series 5, the semi-elliptical shape of this case is taken a step forward. Also available for the viola (3621E - made to measure). CLICK HERE TO SEE DETAILS (details are subject to change without prior notice) |
| | |
| | The 3611P Aeternum Aureum Series 5 brings even more style and outright beauty to the Aeternum line. CLICK HERE TO SEE DETAILS (details are subject to change without prior notice) Likewise also available for viola (3621P). |
INTERIOR MATERIALS
Firm surfaces lined in suede-like Royale, with truly finest velvet plush padding (Aeternum); Italian leather or suede leather, finest velvet plush padding and satin (Aeternum Aureum).
Δ Δ Δ
MORE INFORMATION ABOUT THIS MODEL (click on links)
FEATURES and OPTIONS - COLORS - SPECIAL VERSIONS - WEIGHTS and MEASUREMENTS
In his continuous quest for perfection, Mr. Musafia reserves the right to change, modify, and improve any features and characteristics of these cases without prior notice.
"Musafia", "Musafia Cremona Italy", and "SATRAVI" are registered trademarks protected by law.