Musafia Cremona Italy
C U S T O M a n d S P E C I A L L Y - M A D E C A S E S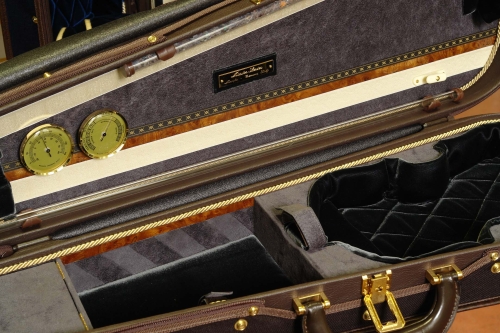 "God is in the details". (L. Mies van der Rohe)
A Musafia client is a special person. That is why he or she normally isn't content with the usual factory-made products, and orders a case made by Mr. Musafia and his assistants. Sometimes however even a "normal" Musafia case is not special enough: the musician might need a case for a particular instrument, or need to house a certain shoulder rest. Perhaps he or she needs to be able to fit more bows or shorter baroque bows. Or perhaps, the customer has a particular preference for the aesthetic effect. To these particularly discerning people, Mr. Musafia offers the opportunity to own a specially-made custom case, made to their exacting specifications and taste.

Starting from the basis of an existing Musafia Cremona Italy case model (Aeternum, Master Series, etc.) the client can request:

- special design features, accessory compartments, instrument fitting and bow provisions, etc.;

- special materials or color schemes for the interior, and even provide their own material for a truly personal result.
The artisan attention and care of the Musafia workshop is your guarantee that you will receive not only helpful, personalized service in the creation of your dream case, but also the long-term satisfaction that only your ideas and Musafia quality can provide.
Should you wish to order a customized case please contact us directly.
Galleries of special cases
LUXURY MODEL - AETERNUM - MASTER SERIES - ENIGMA - CLIENT SATISFACTION
"Musafia" and "Musafia Cremona Italy" are registered trademarks protected by law.