Dear Musicians,
Today I won't talk about violin cases.
I'm pretty sure that just about everyone has heard of Michelangelo and Leonardo da Vinci, although very few in comparison have actually seen their works in person. This is because the significance of their art has touched the hearts and minds of so many people that even without having seen the Last Supper no one will doubt the genius of these great artists.
At the same time, there are other great works of art that many of us have seen in person, most of us have wished to possess, and some of us have dangerously stretched our credit to actually purchase. Many of these works have become legendary, and yet we do not even know the name of the artist who conceived them!
Those of you who can name a single work by Joji Nagashima, Bill Mitchell, Tom Tjaarda, Marcello Gandini, or Bruno Sacco kindly stand up now, please. Or put it in the garage.
That's right, I'm speaking of automotive design. How can one ignore something that is over 15 feet long, weighs a couple of tons, and you either bought (or wished you could) because it's... beautiful? Isn't an automobile a scuplture?
The works of the above-mentioned artists have made generations dream - something not to be sneezed at - and there isn't one of you that hasn't at least seen one of their works: a BMW 5-series (the E39, in Bimmer parlance), the Corvette Stingray or the orginal 1963 Buick Riviera, a DeTomaso Pantera, a Lamborghini Miura or Countach, or any Mercedes built in the eighties and nineties.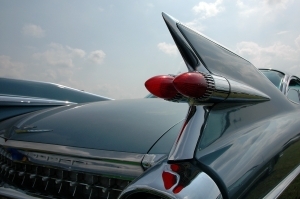 Designer Harley Earl's last work before retirement. What a way to go!
In case you missed the news, the Automotive Designer of the 20th Century award was given to Giorgetto Giugiaro. Perhaps the name rings a bell, as he designed cars as diverse as the Volkswagen Scirocco, the Lotus Esprit, and the DeLorean of Back to the Future fame. But how about the runners up?
Harley Earl, for example, invented the infamous fins on American cars of the '50's. His last work was the '59 Cadillac, which - love it or hate it - is a universal styling icon. Tom Gale - creator of the Dodge Viper - doesn't even have an entry in Wikipedia. Flaminio Bertoni (not to be confused with the Bertone design house) was an Italian scuptor and painter who in 1955 gave us the Citroen DS, which in the mid-50s looked like it came from outer space. Or what about Virgil Exner, or Giovanni Michelotti? Not exactly household words, although the former designed the outrageous Stutz Blackhawk (Elvis had five of them, and other owners form a Who's Who of Hollywood) and the latter created cars ranging from the Triumph Spitfire to the BMW 2002 and the 3.0L.
A Lamborghini Countach will still stop traffic even today, though it was penned 35 years ago. No one can remain impassable to the sheer majesty of Paul Bracq's Mercedes 600 limo, while Richard Teague's AMC Pacer or Gremlin makes us want to smile with their so-called Jelly Bean style (making people smile in this day and age takes talent!). If while strolling down a sidewak you are lucky enough to see one of the 627 examples of William Towns' Aston Martin Lagonda, I personally guarantee you will stop in your tracks. Really. Times passes yet appreciation remains: this defines value in design, I believe.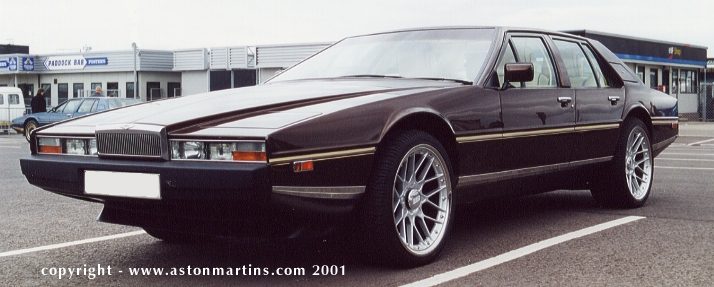 William Towns' Aston Martin Lagonda, designed in 1976, when origami was all the rage. Need I say more?
Some other designers whom I believe deserve more recognition for their work are:
Claus Luthe, a tragic figure who defined BMW's "ultimate driving machine" image; Harm Lagaay (Porsche 924, Boxster, and the best-selling Porsche of all times, the Cayenne); Helene Rother, the first female designer in the history of the automotive industry, who worked for GM and did interior styling work; and Austrian Hans Ledwinka, whose designs for the Czech firm Tatra were blantantly copied by the more famous Ferdinand Porsche in the late '30s to produce the Volkswagen, a matter resolved in court only in 1961. That's right, Dr. Ing. F. Porsche is not the real guy behind the design of the Beetle.
Like it or not, the work of these people has influenced us, and our culture, profoundly. For most people, the purchase of a car is considered second in importance only to that of a house. These artists have shaped the desires (and the economies) of generations, their works are sometimes reproduced in more than a million examples (not to mention the posters on teenagers' bedroom walls...) yet they are largely uncredited for their contributions.
Even if the comparison with Michelangelo is stretching things a bit, it's still a shame that these people aren't more famous. Ironically, many of those who are famous, designed ugly cars, like for example the recognized father of industrial design Raymond Loewy. The snout of his Loraymo, according to a British journalist, looked inspired by deep-sea life, and contemplating the image below it's hard indeed to find any redeeming qualities in the rest this work either.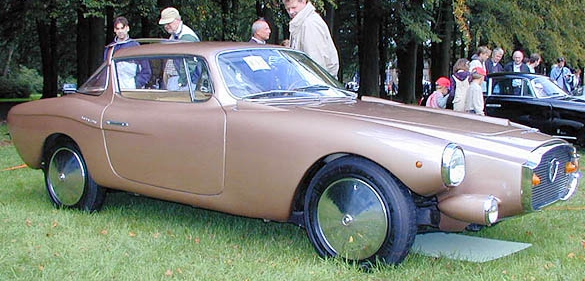 The Loraymo, made thankfully in only one example.
Thank you for your attention, and feel free to comment!
Dimitri Musafia, December 8, 2009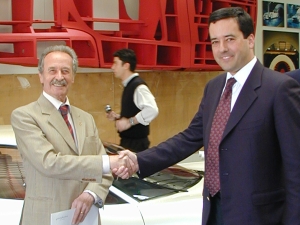 Dimitri Musafia with Aldo Brovarone, former chief designer at Pininfarina
Read previous editorials:
The strange tale of a hair stylist, an auto mechanic, a lawyer and a violin case maker.
Everyone is talking about VALUE these days - OK, but what is it?