Dear Musicians,
We live in an era of instant gratification. You want something, you go and get it. Now. Right?
And yet, there are some things that take time. Learning a foreign language, for example, or to play the violin, takes years. The Scotch Whisky Act of 1988 puts into law that Scotch must be aged at least thirty-six months to be called such, although the legislation is a little superfluous because in the U.K. they won't drink any that hasn't been aged at least 10 years (the younger stuff is exported, to the detriment of those who aren't sure if there's an "e" in Whisky or not).
Those pursuits take a long time because of their nature. The delivery of other items requests a long time because there is a high demand for a rare object produced in limited quantity, made just for you, and there happens to be a waiting list because you're not the only one out there who wants one.
According to the gentlemen at Rolls-Royce, you don't buy a Rolls, you commission one. If for example you decide for the Phantom model, you can choose between 16 colors for the exterior, 12 colors for the interior leather, and no less than 6 different types of the wood veneer. Of course that's just the tip of the iceberg: the list of options is endless, from the "starry sky" headliner to picnic tables and from front-and-rear CCTV cameras to refrigerators next to every seat. And if you find "endless" too confining, all you need to do is contact their "Bespoke" service in Goodwood, checkbook in hand, and they will be happy to create something really unique, just for you. You know, monogrammed crystal champagne glasses and the like.
So how long does it take to get your Rolls? I've read that it takes from three and a half months to close to a year, depending on the options, and assuming some sultan from an Emirate doesn't order 50 of them in the meantime. In that case your order gets put on hold while they good people at Rolls-Royce work on the sheikh's order instead of yours. In this fashion your 2011 Phantom may be delivered as a 2012, and you can't complain either, because after forking over the $50,000 down payment you've signed a clause in the contract that binds you to patient silence.
Some people have called my cases the Rolls-Royces of the violin case world, and indeed there are some similarities. Like the R-R, less than 1,000 are made per annum, and attention to detail and quality is paramount. I make cases for sheikhs, too. But more to the point, my cases come in 7 models, some of which have up to three different formats. There is a minimum of 25 different color combinations for each case, and a rather articulated list of options. Viola cases are, of course, each made to measure. And, yes, many of you know that I offer a "Bespoke" service as well, for those who want something truly spectacular. In short, one commissions my works too: your Musafia case is made for you. The chances that your dream case is sitting in my showroom waiting for you are literally one in several million.
The reason why I bring this up is because occasionally someone complains that he has to actually wait for the case he ordered, and so I have to go out of my way to smooth some ruffled feathers. One customer recently defined "ridiculous" having to wait 4 months for a custom-made Enigma (my Phantom, if you will), a model of which my assistants and I are able to make only three per month!
While I understand impatience, I must confess to having little patience for it myself. No offence intended, but kindly mind the queue, sir. If having to wait 4 or 5 months for one of my custom cases is ridiculous, try calling the folks at Lamborghini. They're making progress: current delivery time for a Lambo has been recently reduced to less than a year.
The real question is thus not "how long it could possibly take to make a violin case??", but how long it could possibly take to make the ones we already have on order before we are free to make yours.
As always, thank you for your attention, and feel free to comment!
Dimitri Musafia, January 17, 2011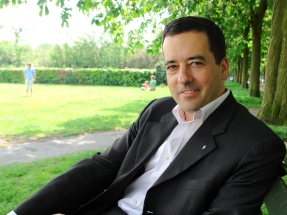 "The more real things get, the more like myths they become" - Rainer Fassbinder
Read previous editorials:!
What's a master violin case maker?
Unsung heroes with a vast following
The strange tale of a hair stylist, an auto mechanic, a lawyer and a violin case maker.
Everyone is talking about VALUE these days - OK, but what is it?
Change and the art of website re-design
Times are tough now. But can you really afford a cheap violin case?
We did it! A Musafia case that can support the weight of a car.
What exactly is a work of art?