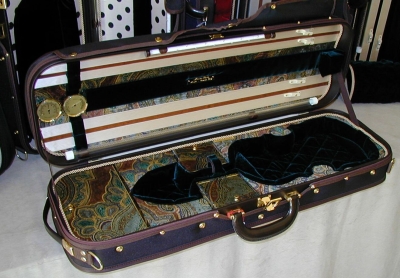 A case identical to this one - or perhaps actually the one pictured - was made for Isaac Stern and his 1740 "del Gesù". Mr. Musafia is searching for it in order to possibly add it to his collection. Anyone with information about it's whereabouts is welcome to contact us.
Δ Δ Δ
Dimitri Musafia has made cases for some of the world's most famous violinists and violists, as well as for museums and foundations that own important instruments. Here is a documented listing:
Stradivari 1715 "Il Cremonese – ex-Joachim"
Guarneri "del Gesù" 1742 "The Cannon – ex-Paganini"
Stradivari 1718 "Firebird - ex-Saint-Exupéry"
Stradivari 1727 "Holroyd"
Guarneri "del Gesù" 1740 "ex-Ysaye - Stern"
Guarneri filius Andrea 1689 "Quarestani"
Stradivari 1725 "Chaconne"
Brothers Amati 1615 "Stauffer"
Guarneri "del Gesù" 1738 "Emperor"
Stradivari 1718 "Chanot-Chardon"
Stradivari 1702 "ex-Lukens - Edler Voicu"
Guarneri "del Gesù" 1742 (title not recorded)
Andrea Amati 1566 "Charles IX of France"
Stradivari 1718 "Marquis de Riviere"
Niccolò Amati 1658 "Hammerle"
Stradivari 1710 "Lord Dunraven"
Guarneri "del Gesù" 1729 "Stretton"
Stradivari 1721 "Sinsheimer"
Stradivari 1734 "Scotland University"
Guarneri "del Gesù" 1734 "ex-Huberman - Ruggiero Ricci"
Stradivari 1714 "ex-de Barreau - Joachim"
Guarneri "del Gesù" 1733 "Lokaye"
Stradivari 1694 "ex-Halir"
For reasons of privacy it has been chosen not to list the owners of the above instruments on this page.