How to purchase or order a Musafia Cremona Italy case
ORDERING THROUGH AN AUTHORIZED MUSAFIA DEALER
Musafia Cremona Italy cases are available from carefully selected violin shops world-wide ("Authorized Dealers"). These dealers have been selected for competence and service. Those listed below as International Showrooms have Musafia cases on display and available for immediate sale. Below you will find a complete listing of Authorized Musafia Dealers.
ORDERING DIRECTLY FROM MUSAFIA
If no dealers are convenient for you, or if you prefer a direct contact, we are happy to work directly with you for your next Musafia. We'll give you prompt, personalized service including delivery almost anywhere in the world. Easy payment by credit card or wire. Our workshop ships worldwide.
CUSTOM AND SPECIAL CASES
If you wish to order a custom or special Musafia case, with personalized design, materials, or features, please contact us directly.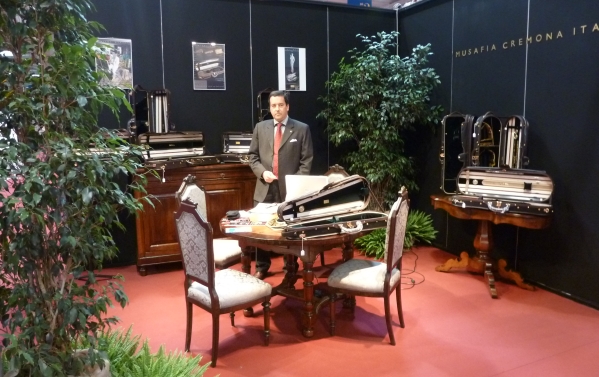 INTERNATIONAL SHOWROOMS
The following is a selected listing of showrooms where you can find a wide selection of Musafia Cremona Italy cases on display, in alphabetical order by country.
TORONTO - Remenyi PRAGUE - Atelier Paganini THE HAGUE - Wm. Bouman & Zn
POZNAN - Henglewski ZURICH- Jecklin & Co. TAIWAN - Carl Becker & Son
LONDON - J P Guivier & Co GUILDFORD - Sound Post LAKEWOOD, CA - Morey's Music
TAKOMA PARK, MD - Potter Violins LOS ANGELES - Hans Weisshaar Inc. BOSTON - Reuning & Son ANN ARBOR - Shar Music
NEWTON FALLS - Carriage House Violins TOKYO - Yamaha Music Retailing Ginza
DIRECT LINKS TO AUTHORIZED MUSAFIA DEALERS' WEBSITES
For your convenience, here is a quick alphabetical link list to Authorized Musafia Cremona Italy Dealers worldwide. This list includes only those Authorized Dealers with websites that have requested their posting on this page - it is NOT the complete list of Authorized Musafia dealers.
Purchasing a Musafia case from an Authorized Musafia dealer is your best guarantee for an original, new Musafia case with all the latest features and improvements in perfect condition at the best price. Authorized Musafia Dealers are in direct contact with Mr. Musafia and can provide up-to-date information and quality assistance. Please note that maintenance, repair, parts, and warranty services are guaranteed available only for those Musafia cases purchased from Authorized Musafia dealers or directly from us. We may not be able to provide these services for cases purchased elsewhere.
If you would like to know if a particular dealer who doesn't appear on this page is an Authorized Musafia dealer, or have any other questions, please contact us and we will be happy to let you know. (Click on links to access the dealers' websites.)
AUSTRIA
Muecke-Elschek Violin and Bow Makers
CANADA
CZECH REPUBLIC
DENMARK
Ulf Eriksson Violins, Wolfgang A. Schmidt Violin Maker
GERMANY (no links)
Christian Adam, Ahrensburg, Christian Adam, Luebeck, Geigenbau Bartsch, Essen, Alfredo Clemente, Koeln,
Reinhard Fischer, Hamburg, Geigenbau Franke, Wiesbaden, Geigenbau Geiger, Nuernburg, Gilbo Music Shop, Frankfurt,
Tobias Graeter Geigenbaumeister, Heidelberg, Haubs Musikalien, Hohenschaeftlam,
Wilhelm Heckenthaler, Bremen, Joerg Andreas Franke, Darmstadt, Christiane Lass, Kiel,
Rainer W. Leonhardt, Mittenwald, Wolfgang Loeffler Geigenbau, Muenchen, Markus Luetzel, Wurzburg,
Antoine Muller Geigenbau, Stuttgart, Andreas Nonn, Krefeld, Clas Reimer, Siegen, Musikhaus Rottwinkel, Warendorf,
Cornelius Schneider-Markels, Hessdorf, Aleksej Slobodryev, Hannover, Guido Stengel, Muenster,
Thiessen Geigenbau, Esslingen, Haat Hedllef Uilderks, Luebeck, Thomas Uphoff, Mannheim,
Matthias Weiken, Detmold, Hermann Woerz Geigenbau, Muenchen, Zhou Geiger, Bonn
ITALY
A. Stradivari Consortium of Violin Makers, Liuteria Cremonese Stefano Conia Sr., Giorgio Grisales Violin Maker,
Liuteria Artistica Cremonese di G. B. Morassi, Loeiz Honoré Violin Maker,
Maurizio Tadioli Violin Maker, Marcello & Vittorio Villa Violin Makers
JAPAN
Yamaha Music Japan Corp. (Exclusive importer - serves selected local retailers)
NETHERLANDS
Wm. Bouman & Zoon, Ronald De Jongh
NORWAY
POLAND
SLOVAKIA
SPAIN
El Luthier de L'Opera, Mundimusica
SWEDEN
SWITZERLAND
TAIWAN R.O.C.
Carl Becker, Son & Co, S Y Arts, Ltd.
UNITED KINGDOM
J P Guivier & Co, Sound Post Peter Hembrough Bows UK
U.S.A.
Audubon Strings, Bein & Fushi Inc., Borman Violins,
Bernhardt House of Violins, Brobst Violin Shop, Carriage House Violins, Carrabba Violins,
Charles Rufino Violin Maker, Chicago Strings, Claire Givens Violins, Inc.,
Gregory Sapp Violins Ltd, Hans Weisshaar Inc. Hill Violin Shop,
Huthmaker Stringed Instruments, J. S. Holmes Fine Violins, Kamimoto String Instruments,
Kerr Violin Shop, Morey's Music,
Montgomery Violins, Rayburn Music, Reuning & Son Violins,
Robert Cauer Violins, Robertson & Sons Violin Shop,
Strings and Other Things, The String House, Vintage Instruments
(are you an Authorized Musafia dealer with an Internet connection and you don't see a link to your site here? please let us know)

If we have no dealers convenient for you in your area, you are welcome to order your Musafia case directly from us. Being that Musafia Italia S.n.c. makes many shipments worldwide each day, we have the experience and the facilities to serve you to your satisfaction. Payments can be made by credt card or bank transfer. Your satisfaction will be guaranteed - if you're not satisfied with your purchase, you will be able to return it for a full refund minus shipping costs. (Some restrictions may apply for cases made to special order). For details of the sales conditions applied in the country in which you live, please contact us: Contact information.

Are you a violin maker or have a string shop? Would you like to become an Authorized Musafia dealer? Please fax us at (Italy) 0372-454089 on your letterhead and we will be happy to send you our advantageous sales conditions, and eventually add your name to the above link list if you have an Internet connection.
OFFICIAL

SUPPLIER
CONSORTIUM OF CREMONA VIOLIN MAKERS