Musafia Cremona Italy
L U X U R Y U L T R A L I G H T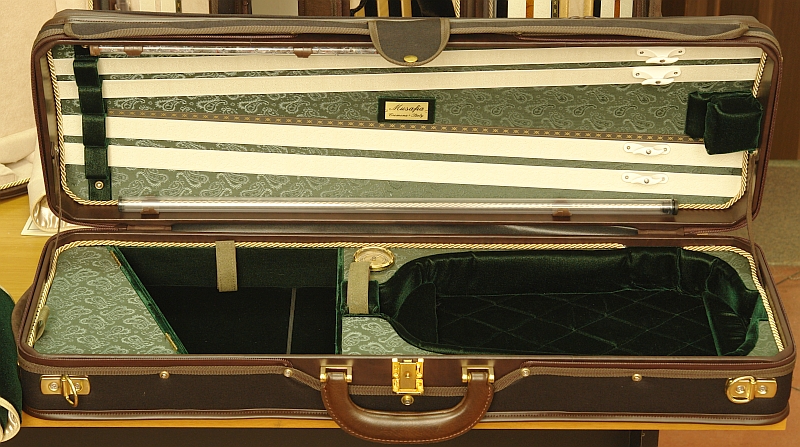 Now with NEW innovative and unique hybrid Kevlar/ wood laminate shell - a Musafia exclusive feature. Click on the logo below for more information.

Consistently the best-selling Musafia model since its introduction in 2007.
FEATURES and OPTIONS - COLORS - SPECIAL VERSIONS - WEIGHTS and MEASUREMENTS
In the year 2000, with the Luxury Ultralight series 1, Dimitri Musafia began the quest for lighter-weight cases, in anticipation of the trend that would favor light weight but with advanced safety characteristics.
The development was relentless, with the case completely re-designed in 2004, 2005, and yet again in 2007, with no expense spared. This last version, the Series 4, immediately became the most popular Musafia case and is still in production today with almost 1 out of every 5 Musafia cases being this model in 2019.
The Luxury Ultralight is an extremely compact case, measuring only 76cm in length and 23.5cm in width. It will fit 98% of instruments and bows, but it is not for everyone. Despite its diminutive size, the Luxury Ultralight has a great amount of interior space, divided between a closing compartment and a large open area, thanks to its ingenious diagonally-oriented closing compartment.
The Luxury Luxury Ultralight is also also available in the Athena version, in different Concepts. Each Concept is a design study of mixing colors and patterns for special, dramatic effect. The production of each Concept is limited to the available supply of material and will change with time.
Please note: maximum bow length accommodated in the ultra-compact Luxury Ultralight U3012 violin case is 75.0 cm, and 75.5 cm for the U3022 viola case; calculate 5mm less if you opt for the bow tip cushions. The maximum width for violins is 20.8cm and in the Luxury Ultralight U3022 is 25.8cm.
Δ Δ Δ
DESIGN
Classic, elegant styling and instrument placement with strategic foam impact absorbing structures to protect it from impact in all directions. Closed accessory box on long-lasting brass hinging for mutes, tuning fork, etc.. Deep quilted padding; dart-shape models have area for shoulder rest (with Velcro - replaceable).

FORMATS AND VERSIONS
INTERIOR MATERIALS
Lined in truly finest velvet plush and satin.
Δ Δ Δ
MORE INFORMATION ABOUT THIS MODEL (click on links)
FEATURES and OPTIONS - COLORS - SPECIAL VERSIONS - WEIGHTS and MEASUREMENTS
In his continuous quest for perfection, Mr. Musafia reserves the right to change, modify, and improve any features and characteristics of these cases without prior notice.
"Musafia", "Musafia Cremona Italy", and "SATRAVI" are registered trademarks protected by law.