Δ Δ Δ
"I have an Oblong Super Leggero violin case... I was involved in a quite serious fall running for a tram in [...] Pizen, Czech Republic in late August. The case was damaged and needs to be rebuilt but the violin was not only NOT damaged, but NOT even out of tune.!" (Stephen Shipps, via e-mail, U.S.A.)
Δ Δ Δ
"Dear Dimitri, [here is the] story of how your case saved my violin [...]. I was rushing onto the platform to catch the Northern Line Tube train. There was a train in the platform with its doors open but the 'door closing' alarm beeping. I ran across the platform, ducking my head to clear the door frame, but forgetting that my case sits up high on my back. It struck the door frame. My case was being held on my back with old straps from a sports bag. The cheap plastic clips broke and the case went flying right across the platform, landing with a huge crash upside down on the concrete surface. I leapt of the train before the doors closed. I picked up the case, it looked okay. With trembling hands I opened it. I felt sure that after that massive impact the violin would be cracked, or at least the bridge or soundpost down. The violin wasn't even out of tune!!! Buying this case from you was the best money I have ever spent. Thank you, thank you, thank you!!! [...] Thank you for saving my violin. I am now in your debt. (Carlo Ballara, via e-mail, U.K.)
Δ Δ Δ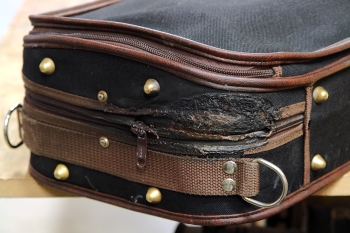 This 2002 Musafia Master Series case, owned by a London artist, was damaged by fire. The Continuum High Tensile laminate construction however saved the violin and the case itself required just a new cover. The shell was in fact undamaged. It's probable that in the same circumstances a plastic or composite case shell would have melted or even caught fire.
"[...] I was travelling by tram [...] in Rotterdam. It was very crowded [and] suddenly it had to stop for a car on the road. The tram was going very fast [...] and I was standing in front because there was no place to sit. [...] When the tram suddenly stopped, I fell to the ground and my violin in her Musafia Master Series case also fell on the ground. I saw how two people fell onto the case really hard. I was really in shock, I thought my violin would be broken but when I opened the case at home, I saw my violin was in perfect condition. Also the three bows were, I saw only that there was a small crack in the case. I was so happy I had a case from Musafia, because I knew that most other cases would never have protected my violin so good against this kind of accidents. [...] I want to thank you, [...] I know that it's the best protecting my violin can have. (Niek Baar, sent to us by our retailers Wm. Bouman & Zoon, Netherlands)
Δ Δ Δ
"While driving home from a concert yesterday my violin in its' case took a major tumble from the backseat of my wife's Subaru Outback when I had to make a panic stop at 40 mph. [...] I bought a nice demo Musafia Master Series case so my violin would have maximum protection. Yesterday when a deer suddenly jumped right in front of the car I jammed the brake pedal hard and the car stopped almost immediately, the case, of course, kept going. "THUNK," was what I heard. Or was that my heart thumping imagining what mess would be inside when I opened the case. Arriving home just a few minutes later I had my wife retrieve the case from the floor and open it, I was too nervous to do that. The violin and everything in the case was fine. The humidifier had fallen out of it's holders, but there was zero damage to the violin and bows. Money well spent. I'm sure other cases would do equally as well, but this was my experience with the Musafia. (Ray Randall, posted on the violinist.com discussion board, U.S.A.)
Δ Δ Δ
"I won't put my fine Violins in anything other than a Musafia. I slipped on icy stairs and took a bad fall last month while leaving an Orchestra rehearsal. My violin case literaly flew out of my hand,into the air, and came smashing down on the ground very hard. It was in a Musafia, and didin't as much as come out of tune. (prsflame, posted on TheGearPage.com discussion board)
Δ Δ Δ
"While riding my bicycle [...] (I had my 1683 Andrea Guarneri violin safely stowed away in my Musafia Master Series case on my back), I was hit by a car which was making an abrupt, unsignaled right-hand turn [...]. I was going at a good clip, and I had no time to stop. I hit the car trunk on its right side and flew over the trunk landing on my back in the road on the other side. Actually I landed with my Musafia between me and the road - I was fine, although shocked. The first thing I did upon collecting my wits and getting out of traffic was to check my violin - it was still in tune! Later, just to be sure, I had a luthier go over my violin, but there was no damage; not even the soundpost moved. The only damage was to my case, which was minor (see attached photo). Thank you so much for keeping my fiddle safe! (Nathan Giem, via E-mail, U.S.A.)
Δ Δ Δ
"I currently own four of your instrument cases: A double violin case ordered last year through the local music shop here in Nicosia, a violin and viola case, an oblong violin case and a dart shape one bought in England (from Guivier) also last year. On my recent tour in the US I tripped and fell down but the dart shaped case saved my Pressenda violin. [...] I would like to thank you for the excellent construction of your instrument cases!!! (George Vass, via E-mail, Cyprus)
Δ Δ Δ
"I have a Musafia case for a fine old Italian viola I have on loan. Last summer I fell down concrete stairs and the viola case bounced down hehind me. [...] The case down to the floor on the bridge side of the viola. I required a number of stitches and a couple of months to recover [...]. The viola did not even need to be tuned. I don't recommend testing cases this way but I have first hand knowledge that the Musafia case is as good as advertised." (D.M., posted on The Viola Email Group, USA)
Δ Δ Δ
"Dear Mr. Musafia, About 2 years ago I purchased your AETERNVM case for my new Tadioli violin. I really liked the case. Unfortunately, on March 19, 2001 my family and I were involved in a bad car crash [...]. I had my violin in the case in the area behind the middle seat of our mini-van. We were hit by a welding truck. The van was totally destroyed. Airbags and seatbelts saved us. I had cracked ribs, a concussion, [...] requiring 30-40 stitches. My family was also hurt, although not so badly as me. [...] My husband told me that he had gone to the junkyard to see if anything was left out of the van. He pulled my case out and opened it. The violin and the bows were in fine shape!! [...] I would like to thank you for your excellent workmanship, which saved my violin, I am sure. Please feel free to use any part of my story to tell people about your cases. Thank you again. (Kathryn Savia, via E-mail, USA)
Δ Δ Δ
"Mr. Musafia, I would like to express my sincere appreciation for the wonderful job that you and your staff had done. When I purchased the Master Series Exclusive for my 12 years old daughter 6 months ago, I was kind of hesitate and also got questioned by my wife about why I spend so much money for a kid; since last week, she no longer bothering me with the question.Why? because I would have needed to spend another 4,000 dollars for new bows, violin, and case if I did not purchase the case earlier.

Long story short: according to my daughter, my wife back out the car "over" the case from garage; [...] the teacher said that I am lucky for getting her the "car proof" case. I was not happy (actually, very upset) in the first beginning because of the damage on the case; however, I finally recognized that is one of the reasons why I purchased the case: for protection. The nice gold plated metal, smooth silk velvet interior, two nice looking gadgets (hygrometer & thermometer)..., those are all nice and fancy features but they are useless without the "protection" in our case.

I hope my daughter will not try to conduct any of the "whatever-proof" experiments (at my cost) later [...]. Once I can assure the violin is in another well protected case (i.e. Musafia case), I will send the damage one back for repairing.Once again, thanks for the wonderful job well done. (Abe Chin, via E-mail, USA)
Δ Δ Δ
Accidents can happen, and will.
No one can of course guarantee that your instrument will outlive a mishap like the ones described above in ANY normal violin case, Musafia or otherwise. Absolute security would mean leaving the instrument untouched in a bank vault. A violin may be damaged even in a Musafia case if an accident occurs.
However, it is reassuring to know that Musafia cases are designed and built with instrument safety as our highest priority, and that reduces the likelihood of damage in extreme conditions.
We also offer the opportunity to customize every Musafia case with optional increased instrument safety characteristics, such as reinforced frame, ProtectaSystem, thermal insulation, and other innovative ways to keep your instrument out of harm's way as much as possible.