Lievissima
The first ultra-lightweight Lievissima was a challenge for Musafia: how to match the weight of carbon fiber cases using wood laminate, but with a protective cover and thermal insulation?

Since its introduction in 2014, we have been relentlessly developing it to exploit all the potential this case has, culminating with the new Lievissima Evolution. Compared to the previous model the thickness of the thermal insulation was doubled, shoulder rest position was optimized, strap handles are now in real leather and the case presents a smooth, rounded, modern borderless look.

Its price is similar to that of many industrially-made cases and is truly ultra-light: the dart-shape model S1911 weighs in fact consistently 2.0 kg / 4.40 lbs. or less, and we guarantee that in writing.

A special feature is the thick padding under the case cover, which not only provides superlative thermal protection, but also protects against even substantial bumps, and making an aftermarket slip-on insulation cover no longer necessary even for rigid climes.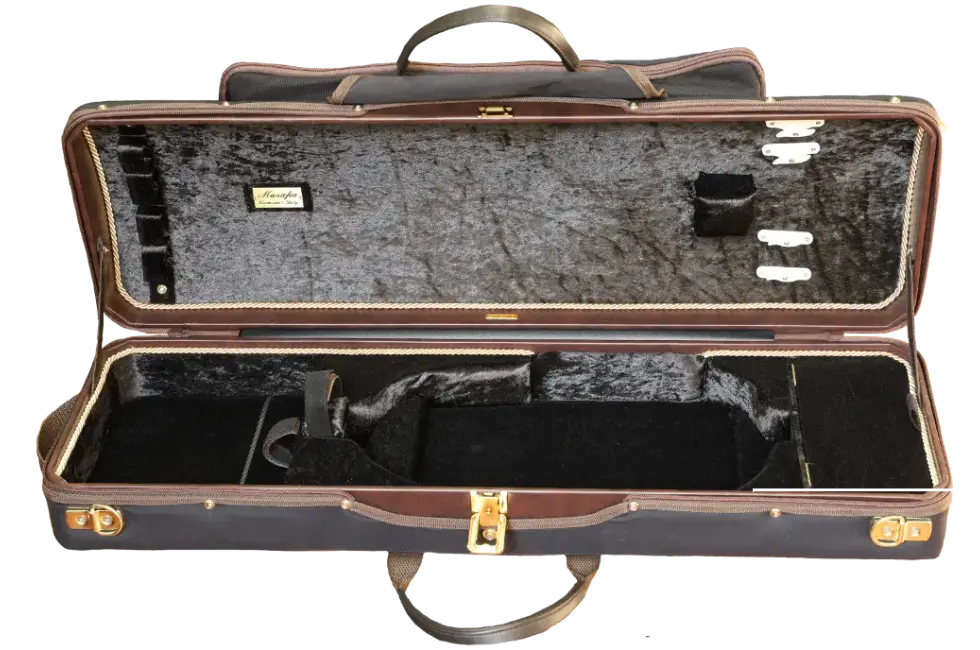 from 1.9 kg / 4.2 lbs.
76/80 x 23.5 x 13 cm
Compared to a carbon fiber case
Lievissima Evolution proves that you don't have to accept the defects of Carbon Fiber or thermoplastics (poor thermal insulation, limited violin safety, delicate exterior) to enjoy an ultra-light weight case which actually offers superior protection to your violin!
Double-thickness thermal insulation layer
Protective cover with or without music/iPad pouch
Lighter than many carbon fiber cases without a cover
Shell can withstand up to 80 kg. pressure without damaging the violin inside
Tested superior resistance to temperature and humidity changes
Crash-tested 4-point Offset Plane™ suspension system
Design and construction
Shell
Revolutionary and exclusive hybrid Kevlar® and wood laminate construction. Continuum High-Tensile™ bonding method. Wood laminate specially milled to 0.1mm tolerances in thickness, up to 6-ply. Inner layers checked for defects via transparency before use. Structure cold-bent to avoid possible warping; lightweight, highly resistant, and repairable in case of damage. Internal partitions are load-bearing and structural to increase overall strength. Monolithic impact absorbing structure created through the use of high-density (28 kg/m3) foam with surface reinforcement cemented to both sides and bottom. Reinforced hinge and back-pack attachment area. Case shell designed to withstand equalized pressure on the lid equivalent to the weight of an average person.
Cover
Borderless design. Made with super-lightweight 180 denier Cordura® nylon, water-and-tear-resistant, and treated with Teflon® to reduce wear and scuffing. Long-lasting YKK zippers, 25mm zipper stitching support, synthetic thread, double-folded edging and upgraded through-bolted strap attachments (intead of sewn-on D-rings) to assure long life. Real leather strap handles. Replaceable; available with and without music pocket.
Interior padding
5mm padding below instrument, 10mm lateral padding, four-point instrument suspension.
Exclusive safety features
All Musafia case designs crash-tested to help determine best protection for important instruments. Thick (1cm) layer of thermal insulation on all sides of the exterior of the shell which also protects from bumps, four-point Offset Plane™ instrument suspension, patented SoftTouch™ spring-locking bow holders, fore-and-aft movement restraining system, double-action Sekur™ safety lock. SATRAVI® protection certified. Built to IP-64 water- and dust-proofing standard (EN 60529).
Other characteristics and features
Long-lasting brass hinging on accessory box lids, replaceable subway strap.