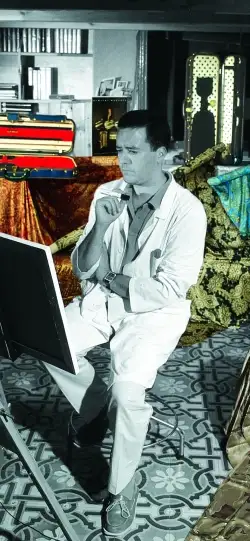 Musafia Cremona Italy cases was founded in 1983 by Dimitri Musafia, concertmaster violinist and prize-winning violin maker with a diploma from the Stradivari Institute.

From the beginning, the objective was clear: to design a violin case that offered superior instrument safety and which was also elegant and pleasing to look at. The structure had to be strong enough to resist impact or pressure from the outside, and the interior designed to absorb bumps without transmitting them to the instrument.
Starting case making from a clean slate proved enormously beneficial. Musafia experimented with a wide variety of materials, from honeycomb PVC to fiberglass, from Kevlar and carbon fiber to high-density polyurethane, from simple sectional to sandwich construction. Eventually – after two years of experiments which included crash testing – he settled on a specially-milled wood laminate as his preferred medium, one that was able to best satisfy all his prerequisites for instrument safety and portability.

In the years that followed, Musafia Cremona Italy cases became known and appreciated for their instrument safety features as well as their distinctive Italian style. Some of the world's greatest soloists commissioned Musafia's work for their Stradivaris and Guarneris, as did museums and foundations. Musafia made cases for some of the most precious of all violins, such as the 1742 Guarneri del Gesù "the Cannon" once owned by Paganini, and the 1715 Stradivari owned by the City of Cremona, considered perhaps the greatest of his works in existence.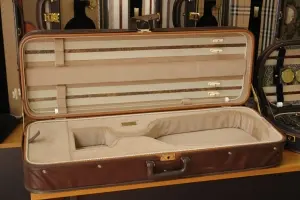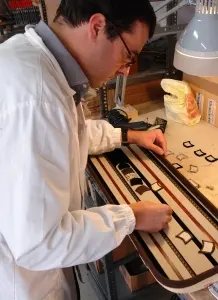 Despite the continued successes, Musafia's focus was kept only on the never-ending pursuit of
perfection. By choice, therefore, what was originally a one-man workshop on Guarneri del Gesu
street – just steps away from the site where Stradivari's workshop once stood - never became a
factory. Over the years the atelier was kept small and family-owned, with just little more than a
half-dozen assistants employed, the majority of whom sharing a similar background in professional violin making and all of whom are dedicated to the same excellence in design and craftsmanship.
Thus, Musafia's innovations in both instrument safety and style are now considered by many to be the standard of the craft. Here are some Musafia firsts:
1984 - Built-in hygrometer
1985 - Six-ply laminate construction
1987 - Offset violin placement on some models
1988 - Wick-style humidifier
2003 - Asymmetric case shell, case interior illumination option
2006 – PressurePorts™
2007 – Photo retaining ribbons in case lid
2008 – Built-in A440 tuner option
2011 – Anti-intrusion bottom panel, pencil-holding loops in music pocket
2014 – Soft, rubberized bow spinners for greater bow safety
2016 – Elastic strip to hold string packets
2020 – Hybrid wood-laminate/ Kevlar® case shell
Even the exclusive pattern of the Enigma silk velvet is a Musafia design which has been widely copied by other manufacturers worldwide. The basic design of the model 3011 Luxury Classic, with its distinctive rope cording and quilted padding that dates to 1984, has become ubiquitous to the point that "Musafia style" and "Musafia clone" are terms which have entered everyday language.

All Musafia cases made today feature our proprietary unique and innovative wood-laminate/ Kevlar® hybrid shell, and are built to IP-64 water- and dust-proofing standard (EN 60529).

Today, more than 40 years after the first Musafia case was sold, the atelier continues to make a limited number of highest-quality violin and viola cases for those musicians who don't want a factory-made, one-size-fits-all product. If the over 25 million possible combination of models, colors, and features aren't enough for one's needs, the atelier can offer one-off cases as well.

All the construction of each Musafia Cremona Italy case takes place within the Cremona workshop and Mr. Musafia not only designs each model but is himself involved also the construction of each case, which can take up to 22 hours of highly-specialized work, as well as the final inspection and certification.