Luxury Classic
Musafia started making cases with the Luxury Classic in 1983. From the outset it showcased what would become known universally as the "Musafia Style": gold-color rope cording, quilted bottom padding, brown-on-color chromatic scheme, and double-thick padding around the instrument.

Just touching the soft velvet lining with your fingertips will confirm that it is simply without equal in terms of plushness and offers minimum abrasion to the varnish of even the most important instrument. The design offers generous placement of both thick padding and impact-absorbing foam for further protection.

Continuously updated over almost 40 years, the oblong violin model 3011 was redesigned in 2014 to offer even more protection than before, with the violin centered allowing it to be better protected from bumps coming from all directions. In 2019 it was re-designed again, vastly increasing the space for accessories, with a shoulder rest holder outside the main compartment and an elastic to hold string packets. Now there is also a second load-bearing transverse structural partition for vastly increased sideways crush resistance.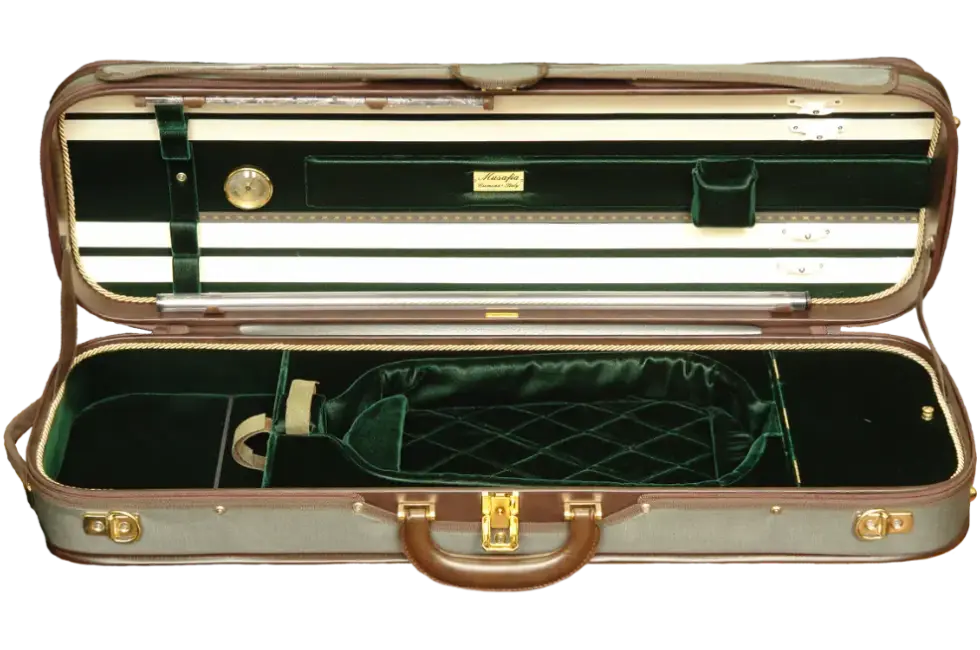 Design and construction
Shell
Revolutionary and exclusive hybrid Kevlar® and wood laminate construction. Continuum High-Tensile™ wood laminate specially milled to 0.1mm tolerances in thickness, up to 6-ply. Inner layers checked for defects via transparency before use. Structure cold-bent to avoid possible warping; lightweight, highly resistant and repairable in case of damage. Internal partitions are load-bearing and structural to increase the overall strength. Monolithic impact absorbing structure created through the use of high-density (28 kg/m3) foam with surface reinforcement cemented to both sides and bottom. Though-bolted zinc-plated steel reinforcements on all viola cases for superior long-term durability. Reinforced hinge and back-pack attachment area. Case shell designed to withstand equalized pressure on the lid equivalent to the weight of an average person.
Cover
Made with military-specification Cordura® nylon, water-and-tear-resistant, and treated with Teflon® to reduce wear and scuffing. Long-lasting YKK zippers, 25mm zipper stitching support, synthetic thread, double-folded edging and upgraded through-bolted strap attachments (instead of sewn-on D-rings) to assure long life. Padding on underside reduces bumps to the instrument when the case is set down. Includes new expandable LieFlat™ music pocket, full-length rain flap and is replaceable.
Interior padding
5mm padding below and above instrument, 10 mm lateral padding, four-point instrument suspension. Blanket padded with 5mm foam.
Exclusive safety features
All Musafia case designs crash-tested to help determine best protection for important instruments. Four-point Offset Plane™ instrument suspension, patented SoftTouch™ spring-locking bow holders, fore-and-aft movement restraining system, double-action Sekur™ safety lock, multi-filament Dimus II™ humidifier and hygrometer, and case bottom external padding. EnCase™ side impact protection and anti-intrusion bottom panel. SATRAVI® protection certified. Built to IP-64 water- and dust-proofing standard (EN 60529).
Other characteristics and features
Ribbons to retain photos in case lid without damage, long-lasting brass hinging on accessory box lids, padded blanket, soft and flexible string tube to avoid damage to the instrument in case of accident, double carrying straps for normal and backpack use, replaceable oversized leatherette handle to facilitate carrying the case with gloves in cold weather, replaceable Alcantara® covered metro handle.